— welcome to —
Northern Michigan Home Inspections
Dependability Is Our Pedigree
There are few moments more exciting than when a walkthrough of a property reveals it to be exactly as you've envisioned your future home. Even if it isn't quite what you've dreamt, it's a welcome relief to find a suitable home for you and your family. However, such a monumental investment should entail closer scrutiny. At Northern Michigan Home Inspections, we offer a professional home inspection that will strengthen your ability to make an informed decision. Having completed over 2,000 home inspections and counting, our satisfied clients are proof of our commitment to your success.
Higher-Quality Inspection Reports With the CRL™
After inspecting a home, we'll organize our findings into a detailed report that will be sent directly to your inbox. Inside your report, you'll find clear and concise explanations of damaged or defective components, including supplemental photographs to help you visualize certain issues. We're excited to now offer each of our clients the opportunity to use the groundbreaking Create Request List™ (CRL™) feature by HomeGauge.
Introducing the CRL™
The CRL™ is an innovative digital interface that allows homebuyers to select items from their report to include in a customized list of repair and project requests
Choosing which items to include is as simple as a few clicks of the mouse—you'll even be able to notate your requests with a desired action on the part of the seller: repair, replacement, or monetary coverage
Your list can be conveniently accessed from most devices, giving you a chance to finalize your requests with the help of your real estate agent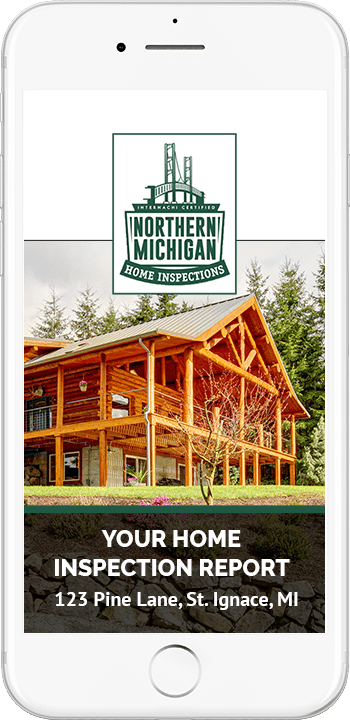 Excellent work! And very communicative and helpful!
Very professional and knowledgeable. I will use and recommend John for any future needs.
Serving Areas of the Eastern UP and Northern Michigan
We're proud to offer professional inspection services for residential and commercial properties in areas of the Eastern Upper Peninsula and Northern Michigan.
These areas include Alpena, Cheboygan, Sault Ste. Marie, Petoskey, Grand Traverse, Newberry, Mackinac City, Hessel, Cedarville, Presque Isle, Roger City, St. Ignace, Paradise, Eckerman, Detour, Drummond Island, Sugar Island, Mackinac Island, Indian River, Brimley, Charlevoix, Levering, Munising, Manistique, Naubinway, Engadine, Curtis, Gaylord, and Rudyard.
Northern Michigan Home Inspections has a proven track record of helping homebuyers find confidence and success in their investments. Contact us today to request an inspection.
Contact Northern Michigan Home Inspections Today